How to…
We've put together a set of training videos for the Marbocote range of mould preparation and treatment products to ensure you get the maximum benefit from their advanced features.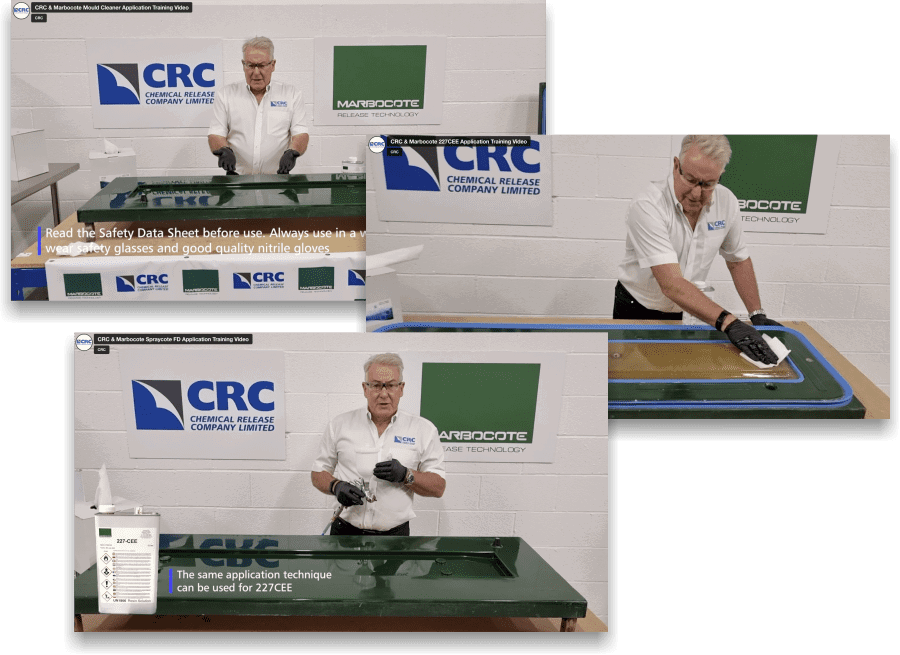 Marbocote Mould Cleaner
Preparation is key – Marbocote Mould Cleaner is used for preparing brand new and refurbished moulds.
Mould Cleaner removes all contaminants, & degreases the mould, allowing the Marbocote Sealer & Release Agents to bond completely to the surface.
It can also be used for maintaining the mould surface during use including the removal of resin build up (if any), without damaging the cured release agent film, before applying another coat.
Marbocote Mould Sealer
It is important to seal the surface – the second stage in the process of preparing new, & refurbished moulds, Marbocote Mould Sealer is used as a base coat for Marbocote Release Agents, and to seal up microporosity in the mould surface.
Marbocote PK4 Release Agent
Marbocote PK4 Release Agent is used where a high gloss finish, with excellent slip properties are required.
It is a wipe-on, then polish dry procedure.
Intended for use on high gloss gel coated, & non gel coated mouldings.
Marbocote 227 CEE Release Agent
Marbocote 227 CEE Release Agent is a high solids, highly durable product, with a low surface energy, & excellent release properties.
Application is wipe on leave on, and 227CEE can also be spray applied.
Intended for all non-gel coat applications such as B-Face moulds and all epoxy mouldings.
Marbocote Spraycote FD Release Agent
Marbocote Spraycote FD (Fast Drying) is a sprayable release agent which doesn't require the 15 minute curing time between coats as with cloth-applied products, excellent gloss finish.
Because it is spray-applied, it is highly suitable for detailed moulds and textured surfaces where incorrect cloth application may cause pooling or uneven coating.
Intended for all gel coat applications, but also epoxy and non-gel coated mouldings where high gloss is needed.
Marbocote Fastcote Release Agent
Marbocote Fastcote & Fastcote LP Release Agents produce excellent high gloss surfaces.
Application of both Fastcote grades is the same, wipe on leave on.
Marbocote Fastcote is intended for all mouldings requiring a high gloss finish. Marbocote Fastcote LP (Low Pre-release) is intended for gel coated mouldings requiring a high gloss finish.
Marbocote W301 Water Based Release Agent
Marbocote W301 is a curing semi-permanent non transferring release agent for safe high temperature application.
We supply & install dedicated spray systems for applying our water based range, along with full on-site training.
Intended for high temperature compression moulding and RTM.
Contact Us
The best way to get in contact with us is by sending a message - we'll get back to you as soon as we can.
CRC Ltd - 5, Cheltenham Mount, Harrogate, HG1 1DW, UK
Tel. +44 1423 569715  Fax. +44 1423 563384