Pultrusion is a rapidly growing capital-intensive process producing composite fibre reinforced profiles.
Applications are many and diverse, covering areas such as aerospace, automotive, construction, sports goods, rail infrastructure, chemical plants, and wind energy.
CRC supplies release agents, wetting agents and polyester veils, both plain and printed, for pultrusion processes. Our team works hard to ensure optimised productivity and a positive impact on the final product. It is only by consulting closely with our clients that we can ensure their process needs, as well as the finished product requirement of their customers, are met.
We were approached to address a requirement for embedded warning signage on trackside cable trays. The aim was to remove the need for stencilling and maintaining the imagery as separate operations.
The project posed a number of challenges. The signage needed to be produced in a dynamic, heated process, with polyester resin, and resulting in linear regularity. It also had to be incorporated with minimal disruption.
Cost was also a challenging factor, along with the need to deliver within a short time period. However, our client had worked with us before and was confident in our ability to meet both these criteria. This allowed them to safely invest the time and resources necessary for a successful outcome.
We devised a solution using specific printing processes resistant to the hostile environment, but also working with our veil supplier to develop a substrate which preserved the clarity of the imagery in the process.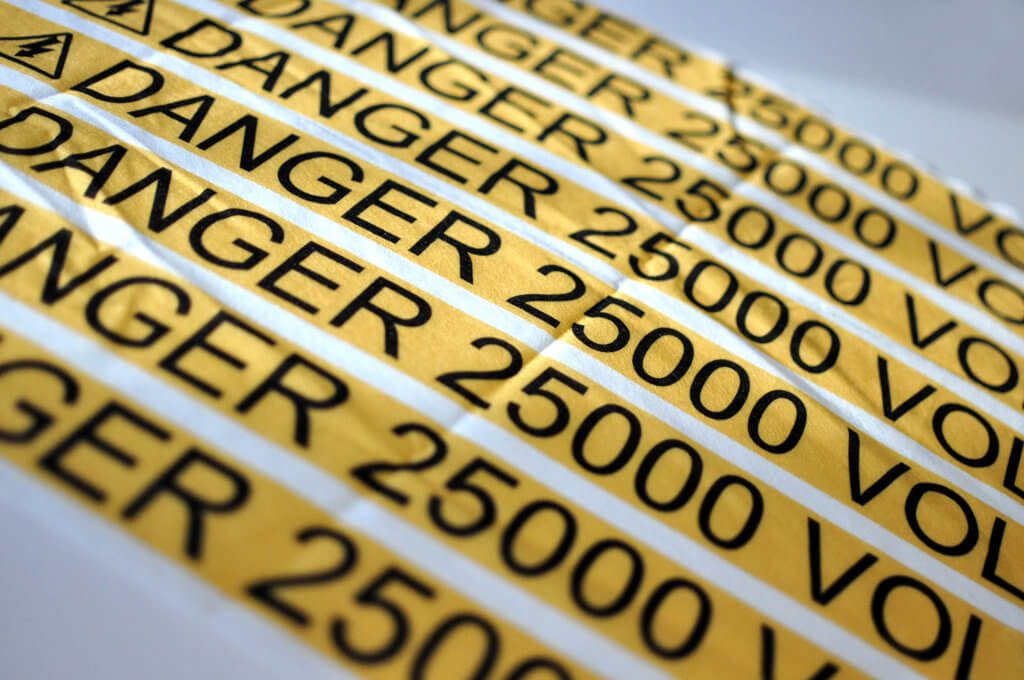 We consulted extensively with suppliers and our customer to ensure we delivered a production-ready solution from conception to realisation.
An understanding of all sides of the process was key to a successful outcome, particularly when it came to ensuring linear regularity, which was one of the biggest challenges in this project.
We worked hard to meet the challenges by successfully combining close collaboration with our client and suppliers with a thorough process and in-depth product knowledge.